If AKG K550 is too serious for you in term of price and size, and if you looking for a portable headphones that you can put it in your laptop bag, AKG K450 is one of the interesting choice with a price of around 84 USD (limited time). If you want to know does this headphones work, here we go !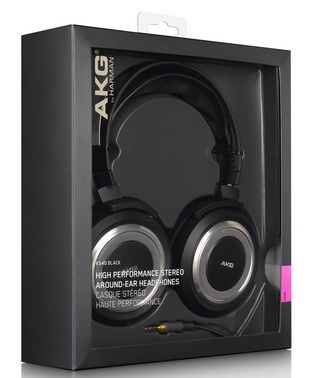 AKG K450 is a rotate-able phones headphones, it may be made of plastic but it is very strong, not easy to break and the plastic makes it very light weight, perfect for a portable task. AKG K450′s pads are very comfortable to wear, it is very soft and the size of them is big enough to cover your ears comfortably and they could a little bit help to protect an environment noise. AKG K450 is well made, it may caused some additional weight but comes with a great quality with a 10 feet long that is so great for home use or even a mobile use. (if you think it is too long, you can buy a portable cable storage that is very cheap).
In term of sound quality, unlike most of AKG headphones, AKG K450 is a combination of a reference headphones and  a music lover headphones, this mean you may not get the best precision of sound that is an very important character of reference headphones (but it is there), but what you'll get is the headphones that a little bit "color" or on the other hand, I can say that AKG K450 is not a flat tone headphones, it comes with a unique audio character, AKG K450  offers an impact bass sound, with a balance mid tone for a vocal,  and the detail hi tone (some've found that it has too high pitch tone), AKG K450  has a great sound stage very wide and very precise focus (base on its studio headphones character). But still, AKG K450 is a brand for Jazz, Vocal, or any genres that label  with these sound character.